Gyohunga-ryu (敎訓歌類)
It is one of Gasa-ryu (type) to educate Confucian teachings. Based on the virtues of Samgangoryun, it talks about rules and ethics for human beings to follow and comply with.
Dodeokga

Dodeokga / Early 20th century / 31.0×162.0㎝
Chinese sages look around the house built based on benevolence (仁), righteousness (義), propriety (禮), and wisdom (智) and encourage next generations to build such houses as well. They start with saying that they should go see the house and the highest house is the one of Confucius, praising his virtues. Then, they go to the houses of Bokseonggong (復聖公), Jongseonggong (宗聖公), Sulseonggong (述聖公), and Aseonggong (亞聖公). The contents after this part is omitted.
Buingwongangga

Buingwongangga / 1963 / 22.5×405.5㎝
The lyrics praises King Sejong's creation of Hunminjeongeum and instructs women to be diligent and scholarly. It mentions the necessity of enlightenment for the women of Bakgokchon (朴谷村), the region of Jeonju Ryu in Imdong-myeon, Andong-si. The phrase "eighteen years after liberation" shows in the text that its transcription was done in 1963.
Oryungara

Oryungara / June 16, 1920 / 16.7×18.9㎝
The lyrics are about education of Oryun (五倫) by each item. The piece includes only 4 items, excluding Bunguyusin. Also, it stops without stating the remaining part of "Jangyuyuseo." The subtitles include "Bujayuchineun," "Gunsinyueuira," "Bu〃yubyeolira," and "Jangyu〃syeora."
Hunminga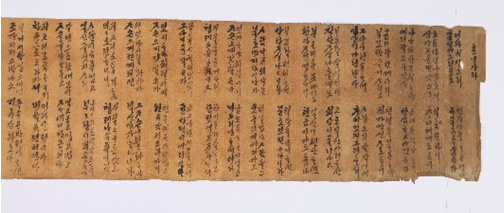 Hunminga / Early 20th century / 19.3×221.0㎝
The lyrics are about people's duties to keep. Starting with filial duties to parents, the piece talks about teachings related to Samgangoryun. It is divided into the top and bottom and each includes 2 rows.