Sedeokga-ryu (世德歌類)
It is one of Gasa-ryu (type) that praises accomplishments of ancestors from the progenitor to the current generation at the time and sings about other proud events. It contains characteristics of each clan and reasons for different events, and teachings of the family to watch out for future generations.
Munsogimsisedeokgara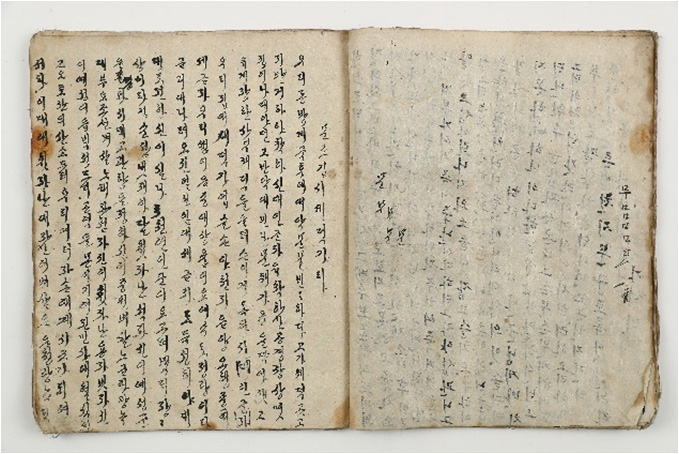 Munsogimsisedeokgara / Early 20th century / 32.8×27.3㎝
The piece praises accomplishments and virtues accumulated through generations of the Uiseong Kim family. It explains the process of how the family has had talented individuals such as Euiseonggun (義城君) Kim Seok (金錫), the progenitor in Silla, and Kim Tae-kwon (金台權) during the reign of King Gongmin in Goryeo, allowing the family to become the outstanding clan. In the second half, the writer praises the virtues of figures such as Cheonggye (靑溪) Kim Jin (金璡) and his five sons, and Pyoeun (瓢隱) Kim Si-on (金是榲), and advise the descendants to follow ancestors' wills and protect the honor of the family.
Sanghwanongjyoga

Sanghwanongjyoga / Early 20th century / 23.3×283.5㎝
It sings about the scenery of Hahoe Village and Hwagyeongdang and accomplishments of the ancestors.
Sedeokga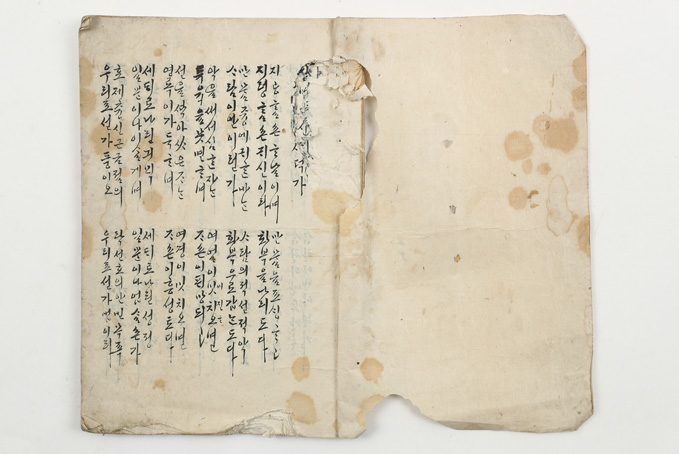 Sedeokga / 1867 (The year of Jeongmyo) / 34.6×23.3㎝
It is Sedeokga of Gwangsan Kim family. It reveals that Korean people originated from Dangun and praises virtues of ancestors starting from the progenitor Kim Al-ji (金閼智).
Jeoneui Yi Family Sedeokga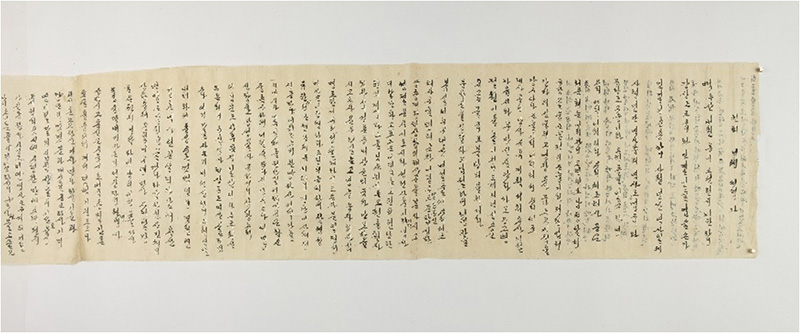 Jeoneui Yi Family Sedeokga / Late 1900's / 27.2×142.3㎝
It praises accomplishments (世德) of the Jeoneui Yi family. It was written by the wife Yi who was married and moved to the Yeongyang Nam family. On the left side of the back, she wrote that "this paper was kept by the father and he said that you would know the value even if there are many children" and talks about how much she missed her parents. The transcriber seems to be the same person as the one who transcribed "Jyuksanbyeolgok."
Jyuksanbyeolgok
Jyuksanbyeolgok / 1986 / 25.7×405.2㎝
It is one of Sedeokga-ryu-type pieces, which starts with "Yigasaneun Namssisijo Jyuksanbyeolgok (The lyrics are Jyuksanbyeolgok of the Nam family's progenitor)." It praises accomplishments of the progenitor. At the very end of the piece shows the transcription date and the record of the transcriber.