Notanga

Notanga / Early 1900's / 14.0×221.2㎝
The piece laments aging. The writer tells younger people not to laugh at the old, and laments that no matter how much wealth and fame you have, aging cannot be helped. She is sad that each part of her body, which used to be beautiful when she was younger, becomes less functioning.
Hyohoega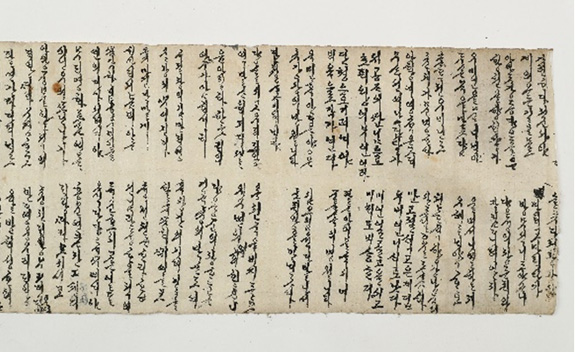 Hyohoega / Early 20th century / 21.0×410.5㎝
It is Gyubanggasa of the lamentation type. She sings about her sadness from parting with her family and relatives after getting married and moving out of the house, and hardships from the relationship with her mother-in-law. She talks about these inevitable things as she was born as a woman, and they are reflected through natural elements. In particular, she spends a pleasant time with her parents and siblings in spring, but everything is a dream after she wakes up. This part is more mournful to see this married woman misses her hometown so much.
Mangbuseokgasa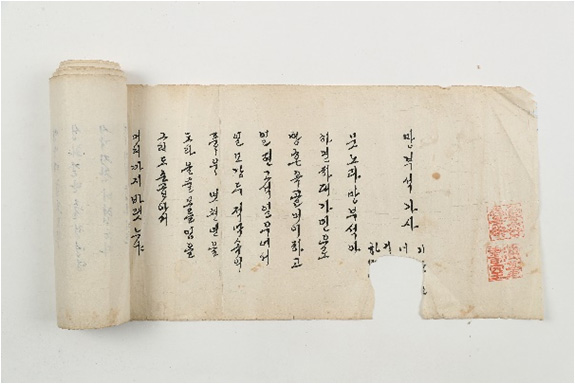 Mangbuseokgasa / Mid 1900's / 24.6×1311.2㎝
The lyrics are about Mangbuseok while the writer stares at it. She wishes her lover to come back, who has been away for a long time. She refers to the story of Mangbuseok, in which a woman waits for her lover who goes to a battlefield and eventually becomes a stone (Mangbuseok), and sings about the sad appearance of Mangbuseok.
Seangwonbyeolgok

Seangwonbyeolgok / Early 20th century / 20.8×399.5㎝
The piece praises virtues and accomplishments of the Jeonju Ryu family located north to Yeongga and shows the writer's thoughts in mind.
Sigolyeojagi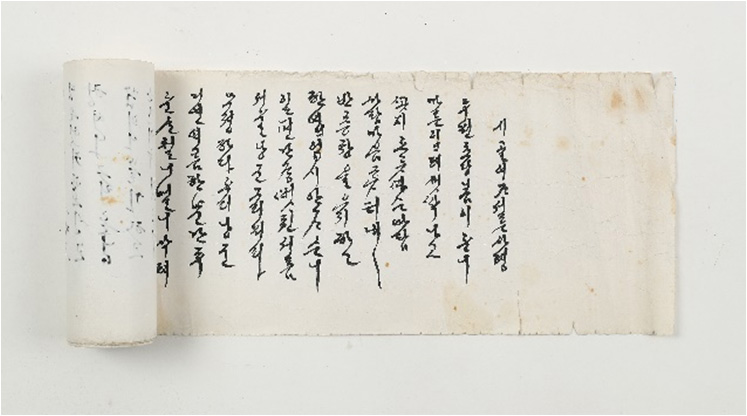 Sigolyeojagi / Early 20th century / 19.5×1055.0㎝
The lyrics is about the lamentation of a sad woman from the countryside. Even if she spent her youth with arduous relationships with her in-laws, she was abandoned by her husband and expressed her sad feelings though natural elements of the four seasons.
Eunsaga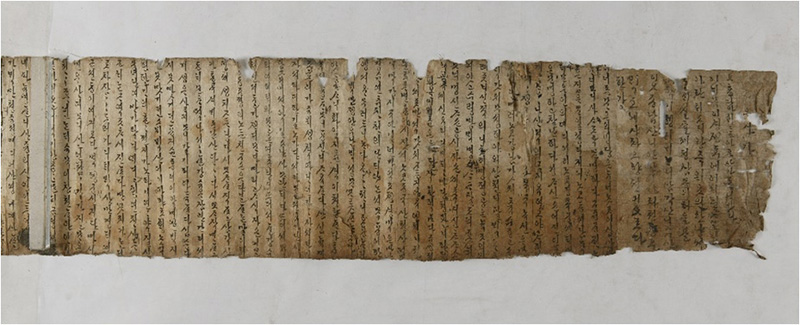 Eunsaga / Early 20th century / 25×350㎝
It is the transcribed copy that does not differentiate between columns and rows, and takes a prose format. It praises the grace of the old Joseon Dynasty while the country was under control of Japan and regrets the reality of the collapsed nation.
Tanguemga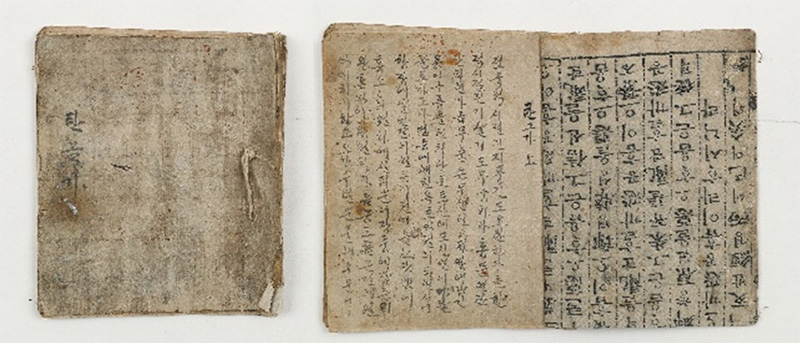 Tanguemga / 1800's / 18.1×15.9㎝
It is the transcribed copy of "Tangeumga (彈琴歌)" from the late Joseon Dynasty. It is about how the world is disorderly and as a result fame and wealth are in vain and people should drink and play Geomungo. While the title on the cover page is "Tamgeumga," what is shown inside the book is Tangeuga 1.