Hoegoga-ryu (懷古歌類)
It is one of Gasa-ryu (type) in which an old woman looks back on her life and sings of lamentation and regrets. While it does include difficulties and hardships in life, it mainly shows the writer's attitude of being satisfied with her life as well.
Ringokga

Ringokga / Mid 1900's / 23.8×29.3㎝
The piece is about how the writer feels when she goes on to the journey of asylum to Bukgando after Gyeongsulgukchi. She used to gather about 30 female students with the fund from her parents and taught them New Learning in 1909 after the Eulsa Treaty. However, she thinks of her parents in the hometown and her students while passing by Samcheok, Gangreung, and Geumgangsan Mountain and goes back to Andong again. The piece also portrays her frustration during the Japanese colonial era. Some of the second half is omitted.
Boksyeongga

Boksyeongga / 1800's / 19.3×330.5㎝
As the writer's grandson is getting married and his wife is moving in, she talks about events in her life.
Oknyeosa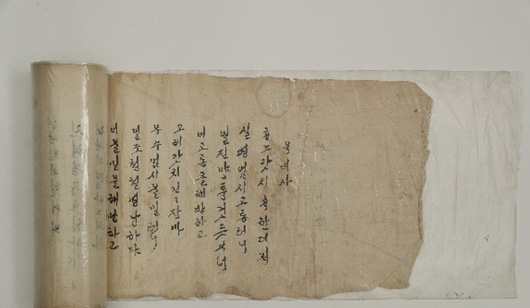 Oknyeosa / Mid 1900's / 27.2×1821.8㎝
After 36 years of liberation from the Japanese colonial era, the writer of "Oknyeosa (玉女詞)" sings the feelings of joy and portrays the Gaecheonjeol (Korea's national foundation day) celebration. At the end, she urges that women should contribute to the development of the country as well. It is written that it is transcribed by "Ungokdang (雲谷堂) Jongbu Oenaedaek."
Janyeohungyerok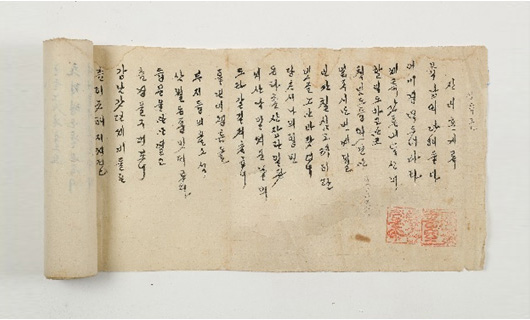 Janyeohungyerok / Early 20th century / 22.5×677.0㎝
The lyrics are about a mother scolding and advising her six children. It includes her experiences of getting married and moving to Sangju at the age of fifteen and hardships of raising four sons and two daughters. She also laments not being able to fulfill filial duties and advises her children to live moral lives.
Chueokgam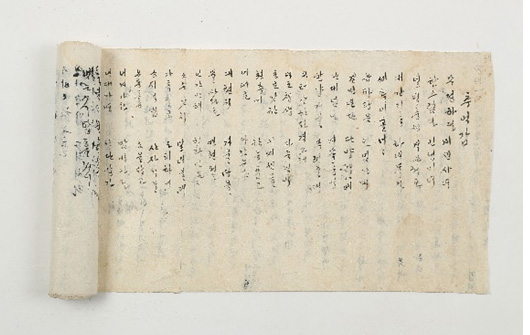 Chueokgam / Later than 1950 / 27.7×416.3㎝
The lyrics reflect on the Korean War. The writer talks about how she feels when she goes to refuge to escape from the war.
Hangeulgasa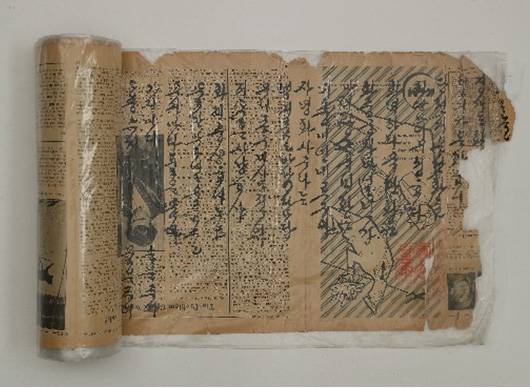 Hangeulgasa / 1955 / 26.5×510.5㎝
The lyrics are about a woman from the Yean Yi family who marries and moves to Haepyeong, Gumi. She reminisces her life in the piece. This is transcribed not on a sheet of regular Hanji but on US National Affaira from May 16, 1995. This is a good example that shows characteristics of Naebanggasa transcription.